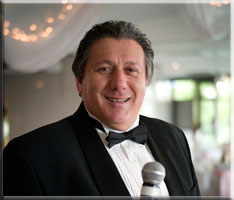 Peter Mitchell offers a wealth of experience and talent.
Peter Mitchell has been a Wedding MC for over twenty years. A former teacher, Peter speaks several languages including Greek, Spanish, Italian & German and has worked internationally. Recently he has been the MC at Sydney's most premier function centers as well as international hotels.
Peter brings professionalism and class to your special night, ensuring that the evening runs smoothly. His eloquence and experience will make the night entertaining.
The package also includes a meeting prior to the event, to discuss the plan for the night.
Peter is also available to help with speechwriting, speaking and any other queries the couple may have.
It is Peter's dedication to the industry, and to the couple, that makes him Sydney's' most trusted MC.
Peter's ability to relax guests and overcome language barriers has made him sought after, but his most defining quality is that Peter steers the night comfortably. Ensuring the happy couple can enjoy themselves, with friends and family, without worrying.
If you want Peter to look after your special day please email here.